Coming up for air...
Hooray! I made it into my hidey-hole at last. I'd begun to think it was going to be the New Year before I found a few minutes to write, and then just as I began to despair, a slice of morning opened up and here I am....
So chaps, what's been happening? I wish I could actually settle into something resembling a routine (do I honestly mean that? I've never been one for routines, it's just that for so long now I seem to have ricocheted from one thing to another, I'm beginning to wonder if a monastic routine wouldn't get more accomplished). Are you a creature of habit? Does it work for you?
I'm not sure that I could adopt a true routine, I inherited too many of my dad's 'get out and about' genes to be properly settled, but nevertheless there are times when I feel as if I'm walking through treacle and it would be lovely to think that a plan might actually have a cat in hell's chance of coming off as scheduled. Is it the creative spirit that's to blame, or is that just a feeble excuse for not being better organised?
Anyway, in amongst all the other stuff this is what I've been doing...
Stitching...
There's been good progress with the piece I showed you in the previous post - partly because I came down with a head cold at the weekend and stayed in the warm. I was lucky, it was one of those mild affairs that gives you a good excuse not to go out spreading germs to everyone, but allows you to actually get on with a few things at home (in between the occasional medicinal hot-toddy)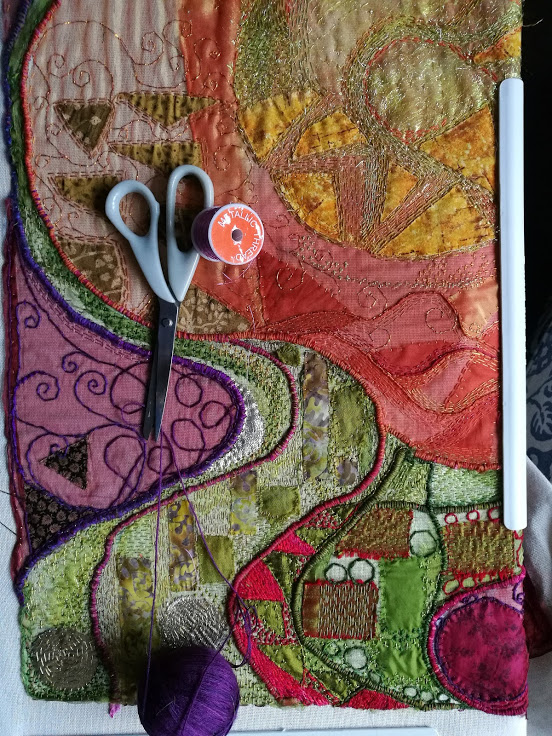 Out and Abouting...
Bath
I squeezed in my annual visit to the Bath Christmas Market last week. If you've known me for a while you'll remember that I'm not at my best around Christmas time, it generally brings out a sense of panic, exasperation and utter failure which can make me tricky to live with. Then a couple of years ago, we went on a day out to Bath - my favourite city in the country - at about this time and suddenly things felt a lot better. There's something about walking around in such beautiful surroundings that takes away the stress for me and calms my nerves. Last week was every bit as brilliant and I'm feeling a whole load better already. (I've even put up some fairy lights in the sitting-room - and it's not even a whole week into December - must have done the trick). I know it must make life difficult for the inhabitants of Bath, but I for one am extremely grateful.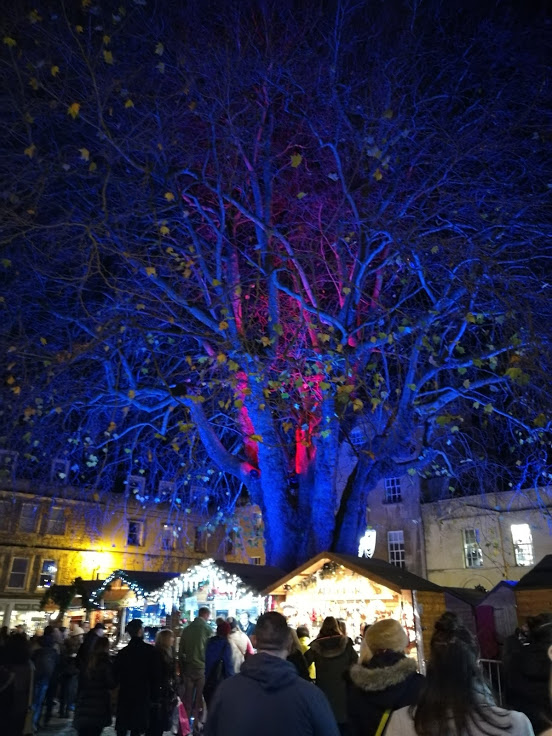 coincidentally, my favourite tree in Bath is currently blue and red.
The Workhouse
We've been busy at The Workhouse getting ready for the new exhibition - Christmas at The Workhouse - which is now in full swing. I'm delighted to say it's getting a fantastic reception, with loads of people coming in to buy their Christmas gifts and cards. I'm still finding it such an amazing experience listening to people talk about their reaction to the art and crafts there. It's clearly so important for everyone to have access to quality art in their lives, whether they make it, buy it or simply want to enjoy looking at it. Art is a necessity, not a luxury, I'd really love a few hard nose politicians to come and spend some time with me there, maybe it would make a difference.
Wherever you live, I hope you'll find time to pop into your local galleries this Christmas and soak up some creative goodwill.
In the lane...
The last few weeks have moved us from the last golden days of autumn into the beginning of a very grey (so far) winter. I've finally succumbed to a new hat, one that I can pull down over my ears and I've managed to find some of those fingerless gloves with a mitten bit that you can pull over the top - I'm experimenting with them, as you can imagine the fun, holding the Delinquent Dog in full bark, attempting to use the fingerprint log in on the phone and taking pictures in sub-zero temperature, but so far, so good.
I was thoroughly downhearted this week when I realised that the lane had had it's biannual pruning. Of course it did need cutting back, it was getting dangerous in places and it is a road after all, but really, the butchering of the hedges makes me want to cry. It will recover I know, I've seen it happen before and at least now I can really see my oak properly again from behind the whitebeam hedge, but it still hurts to see the sheer brutality of the attack.
But the Delinquent Dog is quite happy at the moment because thanks to these chaps having just arrived back in the field, he's currently getting the longer walk (the one that avoids having to walk through the sheep). I briefly googled quotes about sheep and was disappointed to see that they mostly talk about people being like sheep or wolves in sheep's clothing. Personally I find some of them quite menacing, they stare at you in a certain manner...I suspect they're plotting world domination with the squirrels.
In other news...
Not having had a Christmas Party for years, this week I'm going to two! Whoops with vegetarian delight.
I found a book about Henry IV in a charity shop and I'm realising how little I knew about him. I'm not seeing Jeremy Irons in my mind's eye (Hollow Crown fans will understand).
Another sign that I've succumbed to the Christmas Spirit - a bottle of cheap whisky and Crabbies Ginger Wine have appeared in the kitchen...
And with that I wish you all a happy and productive run up to Christmas. I hope to be back in my hidey-hole again before the festivities begin, but you know me and plans...
Very best wishes...
Happy Stitching!
Anny x