Why creative communities are the best!
Hello from a not entirely convincingly springtime in Bedfordshire. (I'm writing this while it's snowing again - I can only hope spring is having a 'bit of a laugh').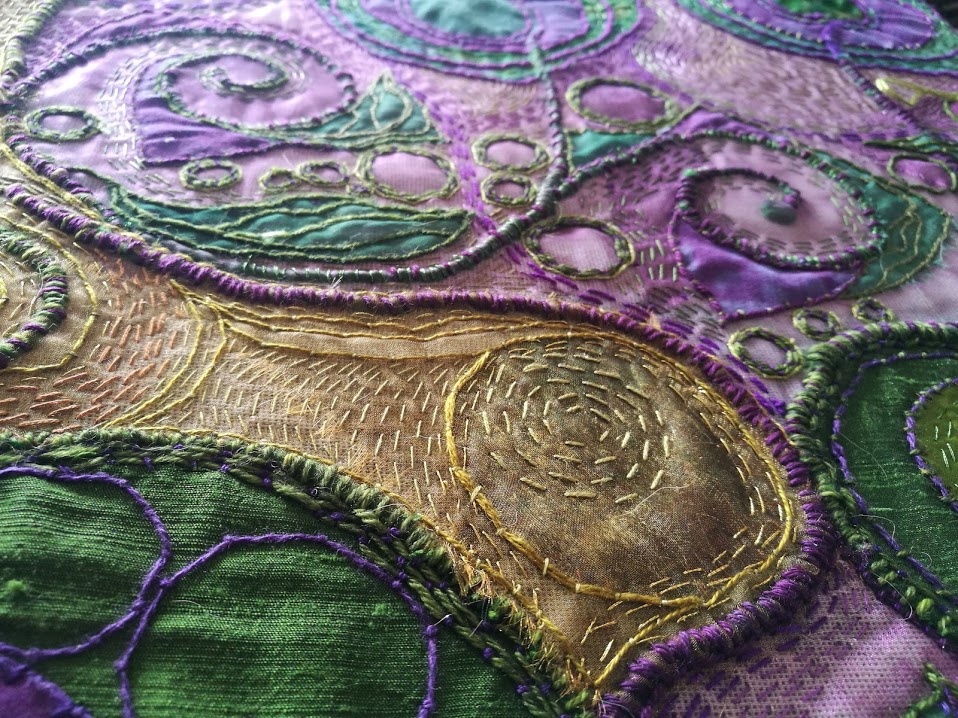 why creative communities are the best!
But it's good to be able to sit and write, there's been so much stuff happening recently that I just haven't got my act together. In fact, if I'm honest I've really been in danger of losing the plot a few times lately. Do you go through periods like that? I'm sure most of us do. I think my problem is that every time I manage to achieve a period of calm and stability I assume it's going to carry on indefinitely, whereas in fact a mild chaos is much more the norm around here and I'd do better to try and roll with that than berate myself for failing to maintain order. Oh well…
Observations from the gallery floor...
Anyway, as many of you will know, since October last year, I've been helping out a couple of times a week at a new gallery in Dunstable, called The Workhouse. (I wrote about it here if you missed it previously). It came into being because of the passionate will of my friend Joanne Bowes who realised that there were many talented people making art locally, some professionally, many others dipping their toes into the art world tentatively or creating as a hobby, for whom there were very limited opportunities to exhibit or sell their work.
Joanne created The Workhouse to give those creatives a space to show their work and at the same time to provide a welcoming, friendly and approachable gallery experience for people in Dunstable, a place where everyone is welcome to come in, browse the work, chat with artists or just relax in a creative environment.
You can imagine that this is an enormously brave undertaking (even in a buoyant economy, galleries are notoriously tricky businesses) which is one of the reasons those of us volunteering there are keen to help it flourish and we're happy to contribute as much as we can.
But over the last few weeks, a couple of things have really struck me as important which I doubt I'd have understood so completely without having spent time in the gallery.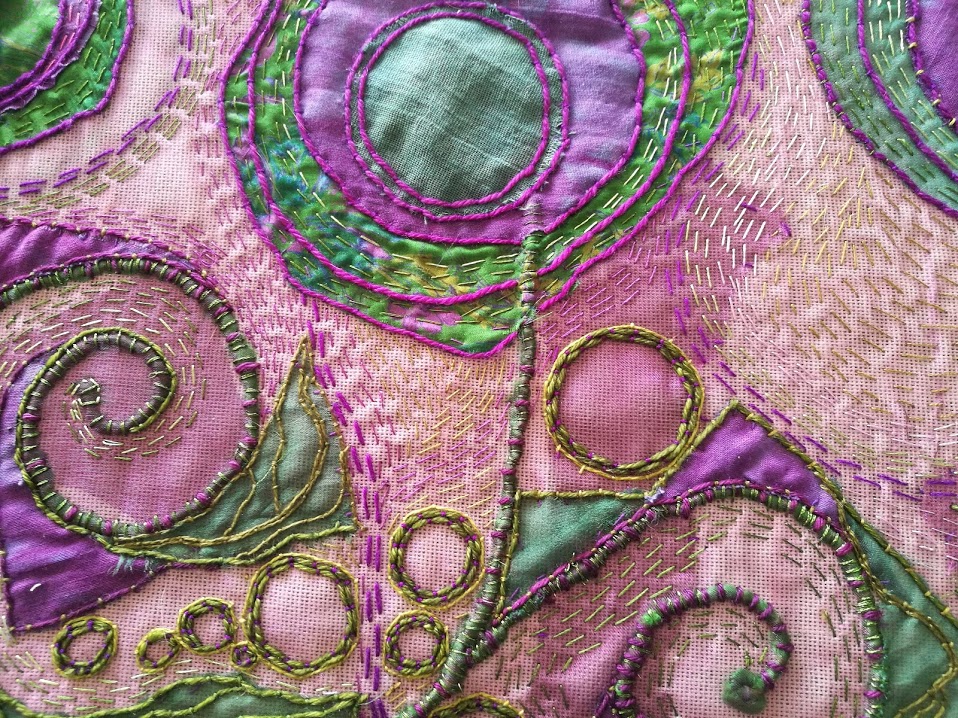 making art is good for you
The first thing that really hit me was how important making art is to so many people, many many more than I'd previously have thought. I'm not necessarily talking about making saleable art or even good art generally, just the actual process of doing something creative for the sake of it.
I'd guess that almost every time I'm in the gallery we get a new visitor who comes in, slowly walks around and eventually as we gently chat to them, tells us that they used to draw/paint/stitch. We're beginning to get really good at spotting them, they have a certain look.
And our job is to encourage them to take it up again, because for the majority, that's what they really want. Since October a number of our 'lapsed artists' have actually gone on to bring in work that's been exhibited and sold. But that's not really the point. The important thing is that people need to feel that it's ok to make art, to feel that there are other people just like them and to feel part of a creative, supportive community, whatever their skills.
People stop making art for lots of different reasons and that's a terrible pity because clearly it brings joy and happiness to the makers. Having a means of creative expression is not just a nice thing to have, for many of us, it's essential to our balance and wellbeing.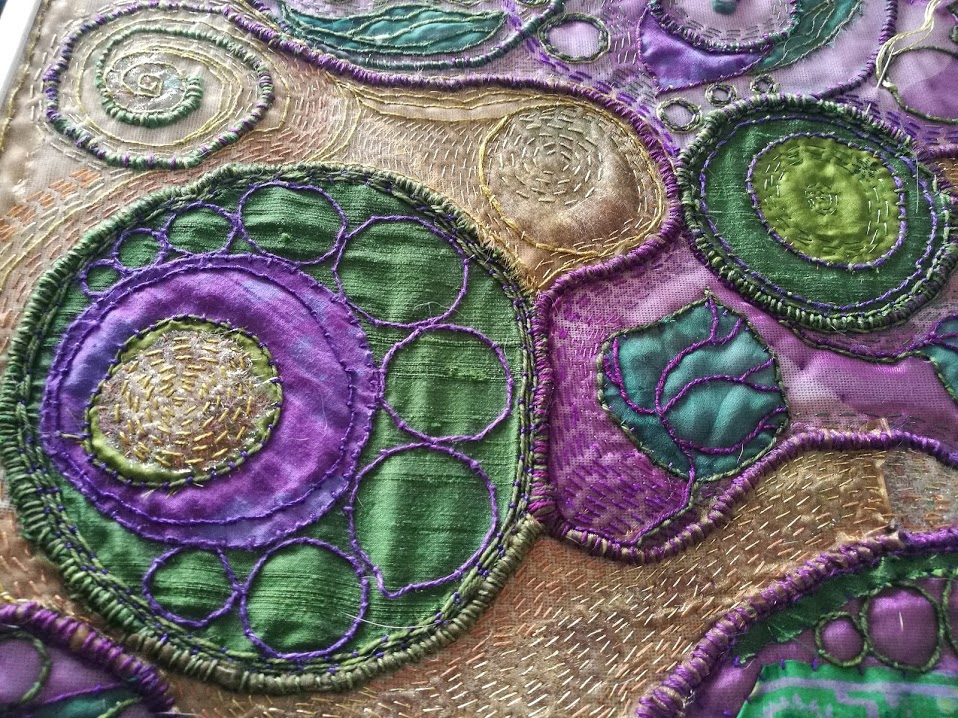 creatives need the community of other creatives
The other, related thing that struck me, was how vital it is for creatives to meet up with other creatives.
And as a lifelong introvert with extremely flakey creative self-confidence, that was quite a realisation. But it's true, finding your tribe, discovering people who think like you, understand you and know what you're feeling, is massively liberating.
For years I was just too shy about my stitching to show it to anyone, but once I did, and once I then found an artistic community to be part of, everything changed and I was eventually able to start being me.
For a great many of the people we talk to in the gallery who've stopped making art, it was because they had no one to encourage them. They weren't taken seriously, or they just didn't have the support network of people around them who understood them, or didn't know anyone who could help point them in the right direction to progress.
It takes courage to express yourself and very few of us are strong enough to stand up against the crowd alone without support, without having creative friends on-side to cheer you on.
ways to help...
Taking the first steps to finding other creatives doesn't have to be as daunting as walking into a gallery might sound. These days there are lots of ways to find people to support and encourage you.
Perhaps the softest way is by searching online for people doing the same or similar creative things. Facebook, Instagram and Twitter are full of arty types and a bit of browsing will bring you to people you feel comfortable with. And then of course there are the bloggers… (hello!).
For me, this online community is one of the greatest joys of modern life. To be able to see the work of other artists around the globe is simply marvellous. To be able to have real time conversations with them is something that never ceases to amaze and delight me. I guess that having been born in the pre-internet world this connection will always be truly wonderful in my eyes.
But wonderful though online connection is, having flesh and blood contacts and being part of a 'real life' community of arty people is equally valuable - perhaps more so.
Here you do have to be a tiny bit braver and raise your head above the parapet, but there are friendly people out there ready and waiting to welcome you. Whether it's a knitting and nattering club, an embroiderers' guild, a painting club, life-drawing group, local artists' network, one-off workshops, quilting circles or whatever, if you look, you'll find them. And the joy of finding your own tribe is indescribable.
Your creative community gives you friendship, encouragement, inspiration, advice, technical assistance, reassurance and feedback and the occasional kick up the proverbial. And what's more, you give the same back to the group.
So, if by any chance you're someone who's been suppressing your creativity, I hope you'll be brave and take a few steps to get back into practice. If you're feeling all alone in the creative world, please don't, wave at the people doing things you like the look of and I'm sure they'll respond. And if they don't, shout louder!
And for those of us already happily ensconced in our own creative community, let's remember to keep a lookout for other people who would like to join in, maybe they're a little shy to ask, but we know there's plenty of room for everyone and in the end we all benefit.
The pictures in this post are details from the piece I'm currently stitching. It's almost finished, just a little more strengthening in the circles and some running stitch texture to the background needed. I was hoping to have it ready for the next exhibition at The Workhouse, but I don't think I'll quite make it in time so it will have to wait a while before it

goes public

.

If I manage to stay on track (

possibly a big IF, but let's hope), I'll be sending out a new edition of 'Loose Threads' around Easter time, so if you haven't previously subscribed and would like to receive a copy, simply fill your details in the box on right or click here.
And finally, I've been asked if I'd run a short programme of workshop sessions on the theme of Contemplative Stitching. If anyone has any experience of similar workshops or has any thoughts on what you'd want this type of workshop to include, I'd be really grateful for your thoughts/ideas/experience. It's something I'd like to do, but I'd want to make useful and enjoyable and I'm not sure how to express it - perhaps you can help? Many thanks. Until next time...
 
Happy Stitching
Anny x