April highs and lows...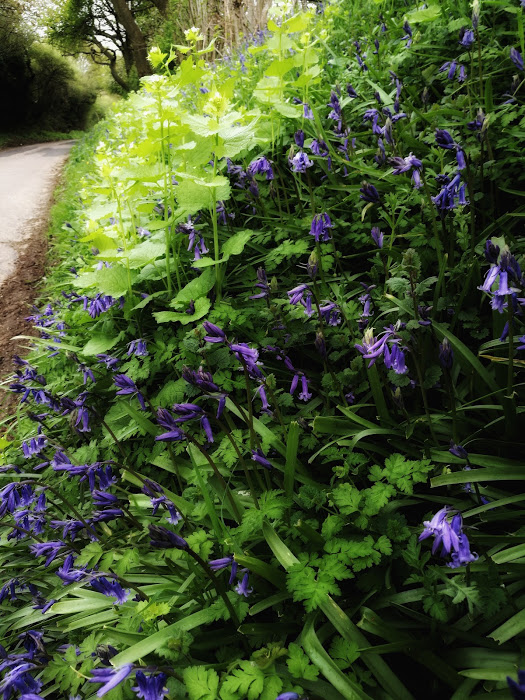 April - highs and lows...
Well I'm here, just in time to wave goodbye to April. Crikey what a month!
Out in the lane everything has kicked off despite the weather veering dramatically from winter, straight to the height of summer and back to winter again.
(We appear to be missing spring out entirely this year around here, which is frankly annoying. I for one need some time to acclimatise between the seasons, I have to gradually warm up, not go from wearing my thermals to factor 50 sunblock in the space of two days).
But nature won't be held back indefinitely and at last we're seeing new growth in the hedgerows. Over the last four weeks the celandines have finally made a show, the bluebells have started ringing, there's apple blossom, pussy willow, garlic mustard and of course the blackthorn blossom put on a spectacular show until the next round of gale force wind and rain stripped the branches.
Now, acid green new leaves are unfurling throughout the wood. The beech trees are almost unnaturally green for a short while, just to accentuate the bluebells beneath them.
Out and About
Desperate for a change of scene, we nipped over to the coast during the Easter holiday. Sadly, I managed to time that precisely with acquiring something that if not exactly 'flu, was as close as you'd want to come. But on the plus side, if you're going to feel grotty, a flat on Cromer seafront with a view across the waves is not a bad place to be.
Just before becoming ill, I managed a trip to one of my all-time Top Ten Favourite Places - Harvington Hall, Worcestershire. Anyone who's followed my ramblings for a while will know how much I love it there, but that's not going to stop me adding a page of photos to the Spellbook just as soon as I can. It's a wonderful house, absolutely dripping in real history.
Then just this weekend I ended up in London and squeezed in an hour at the British Museum, looking at the Iron Age to Medieval Europe rooms and indulging my Celtic art fetish. I stand there looking at the swirls and the spirals and I'm entranced, but at the same time I feel connected. I know how it feels to need to make those same lines.
Hopefully, if we ever do achieve a summer, I'll be getting out and about a lot more very soon. I've always needed to keep my levels of 'old places' exposure topped up, it refreshes me. Do you have the same need? Or what is it that you need to do to feel inspired and balanced? I'm intrigued to know.
Stitch Diary
I'm going to be entirely honest here and tell you that it's not exactly coming together on the stitch-front at the moment.
Minerva and Guinevere both seemed to practically stitch themselves and I was happy with the way they turned out, but since then I've hit an 'off-patch'.
I'd so enjoyed the pallette I used for Guinevere that I decided to use it again straight away and I set up a new piece just as I usually do. And I stitched - quite a lot. And do you know, it just isn't working this time. And the more I throw at it, the worse it gets.
So I thought I'd ditch it and start something else. I bought some new fabric - it's Osnaburg, a soft linen look cotton, and I chopped off a little bit to play with. I got out my paints and had a go at painting the fabric - not something I've done very much at all before - and I enjoyed it. Then I thought I'd add a few stitches, still using the palette from Guinevere and at first I thought it was going to be ok.
But for some reason, it just isn't. Not sure why, it's just the way it is. The creative batteries are running low. (Although I do love the Osnaburg, it's a dream to stitch on/in).
I've been feeling for a while that I need to have a spell of playtime and experimentation without setting myself any expectations, and now I think I'm actually going to do it.
And as if by magic… I was catching up with blogs yesterday and noticed that Stephanie Redfern's book is published - so I've bought a copy and I'm looking forward to lots of 'ooh, that's interesting, ahh, so that's something I hadn't thought of and 'yes!' I'm going to give that a go' moments.
Watch this space!
And in other news…
A word of warning. Don't be fooled into thinking that Mac computers can't be infected with malware or viruses...they absolutely can. I am currently writing this on my totally rebuilt Macbook. Take care.
Have fun chaps and until next time…
Happy stitching (or whatever else keeps you sane).
Anny x